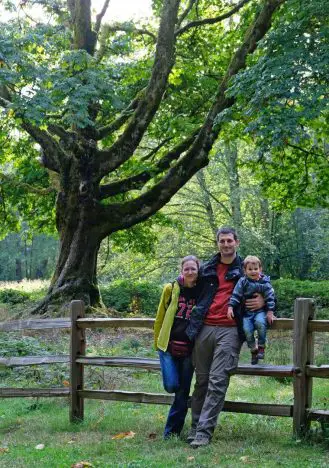 We're Bea and Csaba, a Hungarian couple with their energetic little boy. We moved to Metro Vancouver in 2021, which was an old dream fulfilled.
Just after our graduation in 2014, we spent a full year in California with a scholarship, and we were yearning to return to the West Coast ever since. A few years have passed, but we did return, and spent more than a year living in a city that blends into the surrounding mountains and ocean. A memory we'll cherish forever. A place that'll tempt us back for the rest of our lives. Because it's one of the best places for nature lovers to be. It also rains a lot. A lot! Okay, where was I?
This website exists to bring you the best information to explore Vancouver and British Columbia, whether you come here for a road trip or live here. Find the best hikes near Vancouver, the prettiest parks, beaches and waterfalls in the city, ideas for rainy days, the best things to do with kids in Metro Vancouver, the most beautiful places on Vancouver Island and a lot more!
---
If you'd like to get in touch, please find our contact details here.
Check out our most popular posts on the blog:
About Vancouver & Metro Vancouver:
About the rest of British Columbia: